< Home < Tips Area < Hardware < Hookkeepers

I don't use hook keepers, ever. I feel they are detrimental to the functionality of the rod, and prone to provide that rod with a shorter life span. (Harry Boyd)

A while back there was discussion on the relative merits of using a hookkeeper. I've always had hookkeepers on my rods and never had a problem with sticking myself on one but when I read the responses it did make a lot of sense to take the line and wrap it around the reel and back up, effectively keeping the leader/line join out of the tip. It seems that to do this you need to hook the fly to a post on the stripping guide. What about including an inverted hookkeeper of sorts on the stripper or next to it in order to keep the hook point away from the cane? I know it flies in the face of convention but if artfully designed it might just fly. Funny thing is that when I started fly fishing 12 years ago I never saw or read about wrapping the leader around the base of the reel. Now, I won't do it any other way. (Bill Walters)

I've run across a few really neat little rings which will make unique hookkeepers. All I need to is provide the strap. Trouble is, I don't typically use a hook keeper on my rods and don't know what those little straps are traditionally made from. Are they nickel silver? If so, where do you find paper thin sheets of NS? Are they brass? Any wisdom out there? (Harry Boyd)

I like my rods with keeper rings for our little part of the fishing world, the Northeast, sorta. We use lots of small, and even smaller size hooks with light tippets and they are difficult to hook up to a stripper guide so I buy the smallest split rings available from spin-lure sources. For the flat binder strap I use silver plated copper radio hookup wire pounded flat on the anvil of my big vise. (Have I heard this before?) It works for me. (Bill Fink)

Anybody know where I can get material to make straps for strap and ring style keepers? (Lee Orr)

Some discussions got me thinking that maybe a ready source of wire for the strap on flip ring keepers might be the shank of a stainless hook. I tried it this weekend. It's nasty stuff, and you have to bash it hard to flatten it. I have never been happy with hook keepers. I don't like the idea of the traditional flip ring flopping around on my rods, and the inverted "U" keeper has little class.
Looking at the stainless hooks, however, made me realize that an eye is already formed. I could make a keeper by carefully grinding the top of the hook shank and the eye to half round, cutting to length, and then bashing the round side to a tapered flat. The eye is then bent up, and a hook keeper is born.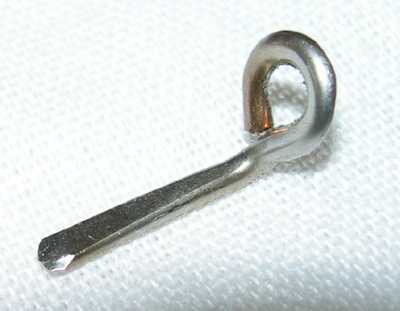 The keeper could be browned to match traditional guides by carefully toasting it with an alcohol lamp, well away from the flame, or blackened by heating red hot with a torch, immediately water quenching.
It rained buckets here yesterday, no fishing. I took a ride with a friend to the Woodcraft store, and noted that they came out with a bronze version of the Stanley 100, the squirrel tail palm plane. I liked the heft of the thing and bought it. The body of the plane is nicely made, and seems more hand filling than the Kunz version, which I also own. The difference is more in the weight than the dimensions. There's nothing wrong with the Kunz. The blade of the Woodcraft version turned out to be a do it yourself kit. It took me a couple hours of hand grinding to get the back of the blade flat. The blade is apparently just 1095 steel, which is fine for a roughing plane, I was not expecting tool steel. You would think for the money, however, that they could grind the thing properly. (Tom Smithwick)

Can someone point me to a source for nickel silver straps used on ring hook tenders? I don't need the rings, just the straps or some suggestions as to what else can be used. Golden Witch has a very small strap but not sure if it can be bought in that form or if it needs to be cut from a sheet of NS. (Scott Bahn)