< Home < Tips Area < Hardware < Engraving

I am hoping someone can provide me with a contact to have some artwork engraved on a butt cap. Any referral would be appreciated. (Scott Grady)

Is there any merit in these 10 buck Chinese hi-speed rotary engravers? I use them for rough work like putting my name on aluminum fly boxes. (Bill Fink)

A friend of mine in South Carolina has set up shop at home to do jewelry design work. He designed jewelry for several years in a local shop here in Arkansas before moving to SC to do ministry work. He did some engraving for me on my last rod. Several folks at CRR asked for contact information. So with his permission, I'm posting his name and e-mail address if anyone needs some engraving work done. I've also attached a picture of the sliding band he did for me. This is my home made reel seat hardware. The quality of the engraving is much better than the hardware.
Here's his contact info:
Rick Castleman
rick_and_teresa@hotmail.com

I'm looking for an engraver who has experience with reel seat engraving. This one I know (Jeff Knodle) but he is only working in winter times. He takes 350$ for the engraving on this reel seat he has on his gallery. Is this a good price? (Olaf Kundrus)

Does anyone have a recommendation for an engraver to engrave ferrules and reel seat hardware? Any leads would be appreciated. (Jim Brandt)

Anyone here proficient at engraving? Looking at spending some time perfecting the techniques of engraving if I can get the right info. Can anyone point me in the right directions here, or share some info to get me started? Any good books available or DVDs you can recommend a beginner. (Gary Nicholson)

Last week someone requested some info on how to get started on engraving. I am a self taught engraver. For what it is worth here are a few pictures of an engraving job I did last summer for a rod for a young girl.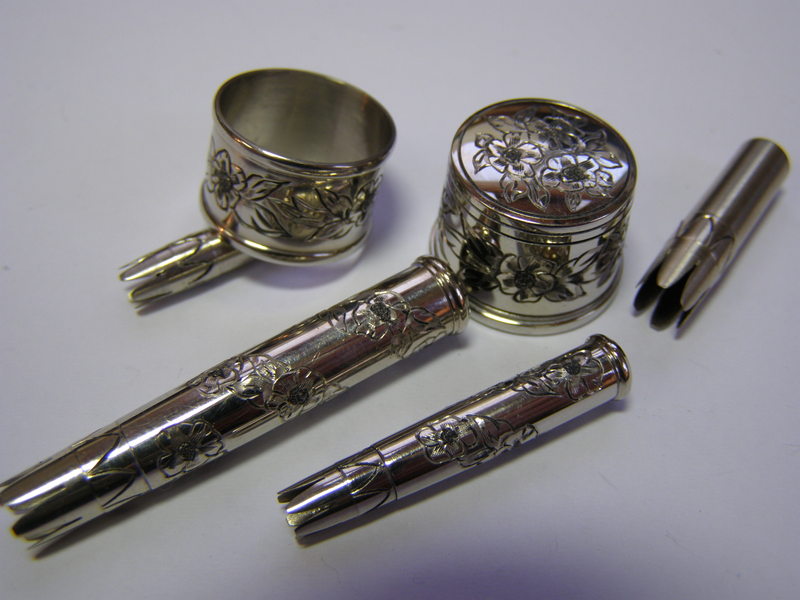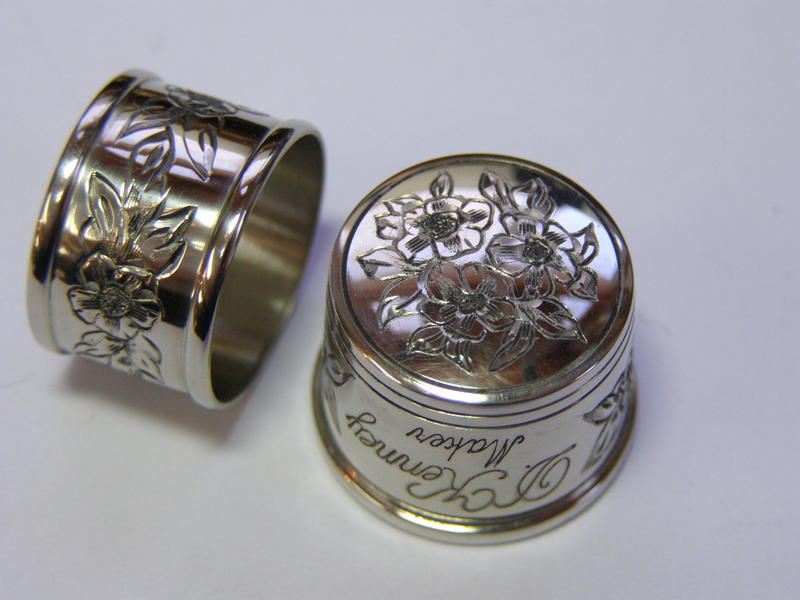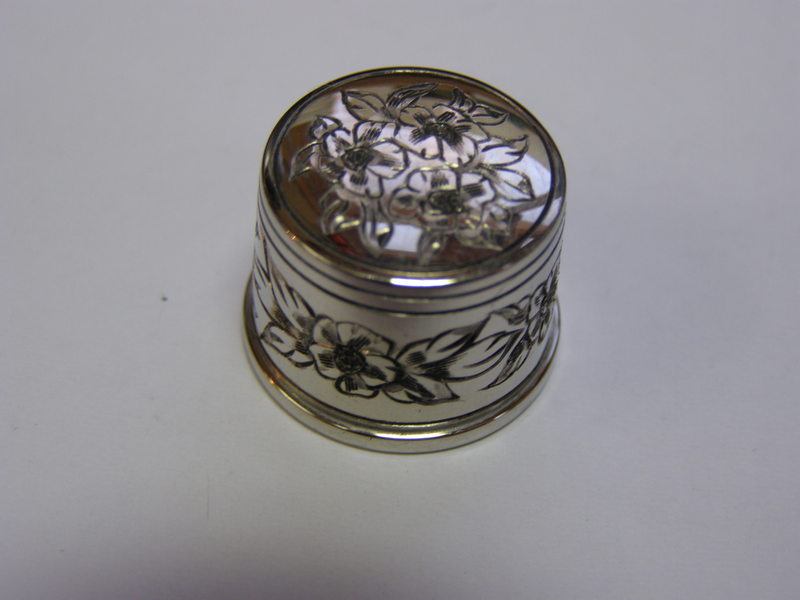 I would start by learning to do script engraving on flat soft copper plates using both the traditional push engraving method and hammer and chisel. With the exception of bulino style and gold inlay (both advanced techniques) all of the cuts in lettering are all you need to know to do more complex work. The key to engraving is sharpening and practice. Once you have a properly sharpened and shaped engraver, it shouldn't take more than an hour of practice to make some decent cuts. There is a picture on my web site that shows a close up of a butt cap with my initials and a rosette. Although it is not the best example of engraving; it was only my third attempt at engraving. Shaping and sharpening a graver may take you anywhere from 10 minutes to six months. Once you get proficient at lettering on the flat I would move on to inexpensive nickel silver domed butt plates.
Once you get proficient in copper you can move up to nickel silver sheet stock. Nickel Silver is much more difficult to cut using a push graver, but cuts fairly easily using the hammer and chisel technique.
I would use flat white or grey Rustoleum paint (in cans, not the spray) cut with lacquer thinner to coat the plates for layout. Print out or copy script letters and transfer the design to your practice plate with carbon paper or artist transfer paper.
Remember all hand (push style) engraving is done with counterclockwise cuts!
For sharpening I would get a set of those small credit card sized diamond stones (about $10 each) from EZ-Lap and I would get a small 2" by 4" Norton Hard Arkansas stone for final honing. If I couldn't get a real Norton brand stone I would order a similar sized ultra fine ceramic stone. To hold the graver for sharpening you can buy a Crocker Sharpener ( from GRS, but you will have to modify for accurate work) but I would make a few simple wedges out of any scrap hardwood to hold the gravers for sharpening. They are more accurate, easier to use, and free.
I would not but an engraving vise to start unless you have money to spare. I would make a small turntable. A five or six inch diameter piece of one inch thick hardwood with a shaft epoxied into the center and set into a bench is a great way to start. I would mount (hot melt glue) my copper practice plate (say around 2" x 3" or so) to a matching block of wood and screw the wood to the turntable from underneath. This works as well as a vise for flat work. You will need a vise once you start on round or curved work- GRS makes the best but plan on spending about $500.00. Don't cheap out on a vise!
I would order everything from GRS - http://www.grstools.com Beware that although GRS is a topnotch supplier they do try to hard sell you. I would not recommend any type of air powered engraver, or power sharpener until you know what you are doing and plan to stick with engraving.
A engraving hammer with a 7/8" to 1" face is a necessity in the long run , but a ball pein hammer will work fine to start.
Books- Buy the Meek book The Art of Engraving. In my opinion this is an overly complicated, outdated, and confusing book, but it does have a lot of info once you figure things out a bit, and it is considered the "bible" of engraving books.
The Jewelry Engravers Manual by Hardy and Bowman- again this book is a little outdated, I would ignore a lot of the graver prep chapters, but it does give you step by step methods to teach you how to do proper lettering jobs. This is the book I learned with and with a few sharp gravers, some paper and pencils, and following the books lessons you can really learn push engraving techniques.
DVD- Sam Alfano has an excellent DVD on graver sharpening. Although it is geared for the GRS air gravers and uses power sharpening equipment, it really is the first video that shows how to set up a graver and gives highly usable angles to start with. It also shows the prepared gravers being used, albeit in an air powered graver. Everything shown can be reproduced with simpler equipment. This is the best produced video I know of.
Lynton Mckenzie produced a 3 set tape in the early nineties. Really you only need the first one to get started. Brownells still sells them- a bit pricey but it shows a lot of the simple hand techniques used by one of the best gun engravers that ever lived.
Heinar Tamme- produced a set of videos in the eighties which I believe are still available. These are crude self made videos that show an old school master jewelry engraver at work. He was a legend, one of the videos I saw of him shows him engraving an item while doing real time narration and focusing and zooming the camera at the same time.
Gravers- I would order the "Quick Change" gravers from GRS in the following sizes:
4 or 5- Glensteel square gravers
2- 120 degree Glensteel square gravers
2- 105 degree Glensteel square gravers
1- #38 flat quick change graver
1- #42 flat quick change graver
1 each of the Onglette (also called point) quick change graver in sizes #0, #2, and #4
The reason for having multiple gravers of the same style is that you will set up the gravers differently for different techniques or cuts. For example a square graver designed for cutting flat practice plates will be "heeled" differently when engraving a ferrule, even though you may be making the exact same cut.
1 set (at least 6 holders) of the quick change graver holders (or collets) and at least one of the quick change handles.
Make or have made from 3/8" or 1/2" round steel or aluminum rod a handle (you just drill a 1/4" hole in the end) to accept the quick change collets so you can use the same graver setup for use with a hammer. (Dave Kenney)

I am looking for some spectacular engraved reel seats. Anyone have any suggestions? (Steve Fitch)

I am considering adding a presentation rod to my line. As I do not have engraving skills I will need to seek out a professional engraver to engrave my butt cap, rings and ferrule components. Can I use reel seat components purchased from Golden Witch, REC, etc. or must I make my own a little thicker. What would you think a fair price from an engraver might be? (Dave Wallace)

Amy Armstrong of Armstrong Engraving in New England Contacted me today via email. Her work looks really good but a little pricey. She may have contacted you guys as well. I have absolutely no $ gain. Check her out at here. (Dave Wallace)