< Home < Tips Area < Hardware < Ferrules < Producing

I have a mini-lathe, purchased in part to use in making rods. I have asked on the list for information on making ferrules and didn't get much. I now have time enough on my hands (currently unemployed), and would love to learn how to make ferrules, with NS or Duronze, or whatever, and make them available. Any help out there?
I have not yet built my first rod, only made reel seats. I do have several old rods in need of ferrules, some step downs, some straight (if that is the correct term). One is an old Pearl Japanese import that came with a reversible grip and tips to make it into a spin cast rod. This was my and my siblings first fly rod.
I have some brass rod and tube, and aluminum. I am familiar enough with my lathe to attempt it, but do not have all the necessary tools such as reamers.
Dimensioned drawings, size charts or references to how to books are needed. (Chuck Pickering)
Poke around here - you should find some good information.

Or go to www.powerfibers.com There have been articles written on ferrule making. (Pete Van Schaack)

As always Chuck...there are great instructions as well as numbers, posted on Todd's page. (Mike Shay)

In Volume 25 of Power Fibers there was an article on making Super Z ferrules. Todd's site also has a whole bunch of information on making ferrules. There are 10 pages of hits on ferrule stuff. If you have any specific questions, I'd be more than happy to reply. I've been making Super Z and step-down ferrules from bar stock for a number of years now. (Mark Wendt)

Does anyone have a picture or drawing of the dies used to form ferrules? (Chuck Pickering)
Better yet, is there a video or instructional on how to make your own ferrules? Has this been one of the presentations at a gathering? (Walt Hammerick)

There are a few old Power Fibers articles on ferrule making. Don't remember which issues.

Gary Dabrowski's web site has a lot of info on drawing metal components if you look. (Larry Swearingen)

I think you will find the cost of dies to deep draw ferrules is prohibitive. That comes from a friend of mine who makes his living making dies. Tubing is a more cost effective route to go. For the hobby guy machining from solid bar stock is the way to go. One size of stock will make several sizes of ferrule. (Jerry Foster)

Here's a link to a great page on machining ferrules. (David Spangler)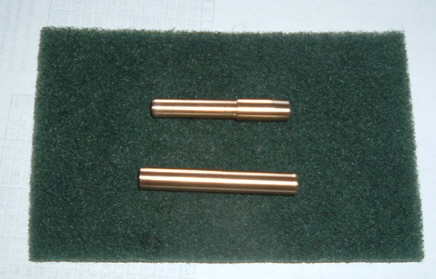 Here is my first attempt at ferrule making, minus the messed up first male. I was closing in on the male slide for fit and woops! Second male came out better. This is for the mid to butt ferrule for a Japanese Pearl rod I'm restoring. Still have the tip to mid to go. Nearest size on the SuperZ chart is a #19. (Chuck Pickering)
Looks like a good start. (Will Price)

You can make your ferrule walls thicker or thinner, depending on your taste. I have made just about every ferrule on the Super Z chart, and trust me, even the thinnest walls will hold up to the rigors of casting and fishing. If you have doubts, you can make them even thicker than the plans call for. That's the beauty of this creative thing we do......you can make little tweaks and adjustments to personalize and call things your very own. (David Spangler)